How MacBook Helps in Increasing the Work Efficiency of Your Company Effortlessly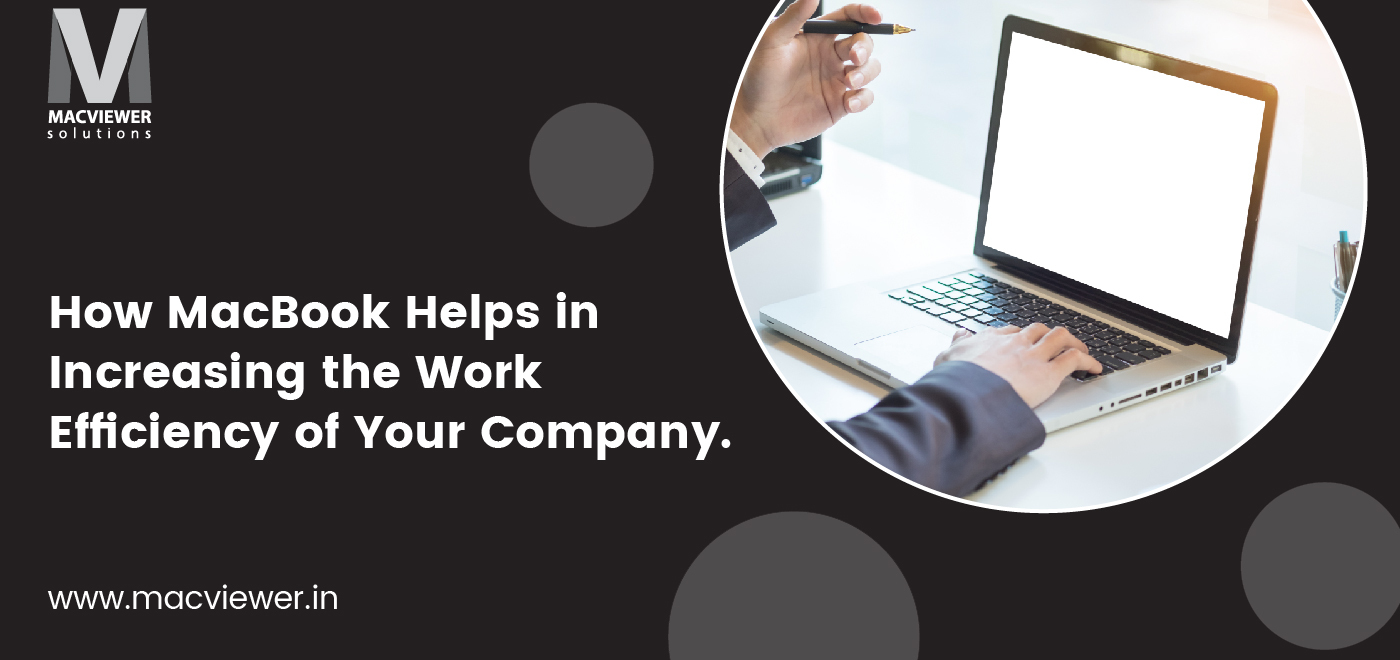 Have you ever heard someone saying MacBooks are for professionals? Or that MacBooks are best for office/business work? Wonder why people say so? Because MacBooks are!
Apple is known for its amazing products and services. Be it iPods or MacBook Pros, they have never failed in surprising people with their unexcelled features. The MacBooks are specially designed and programmed in a way to support & optimize business operations and to enable employees to make the most out of their work.
5 Reasons Why MacBooks Optimizes Your Business's Work Efficiency
1. Hardware & Software by Apple
This is something that adds a lot of value to the MacBooks which very few people would notice. Manufacturing the hardware and building the software in-house by a single company keeps everything in sync and makes it more convenient to use. You get to use the premium quality hardware and advantages of Mac OS. The hardware design & manufacturing is of the best quality enhancing the durability of devices. Comparatively to other devices, Mac products last longer.
2. Intuitive User Experience
A user experience designed built by keeping users at the center. Everything the UX design of Macs has is intended to facilitate the end-users. All the primary settings and features are kept handy. Scrolling, clicking, selecting something, getting screenshots, etc. is extremely easy on MacBooks.
3. Applications
One of the biggest benefits of MacBooks is the amazing applications available. Professionals from the creative field, technical field, or engineering field always prefer MacBook due to the amazing applications suitable for each profession. These applications are built with extraordinary features and support only Mac OS. Though there are plenty of other applications that work on both, iOS apps have many unmatched features.
4. Battery Life
Most of the users ask about the device's battery life considering the feasibility of remote working. If you are traveling or sitting away from a charging point, wouldn't it be great if you could work for 4-5 hours straight without worrying about the draining battery? The good battery life of MacBook is one of the most important reasons why businesses & entrepreneurs prefer using MacBooks for office work.
5. Security
Last but not least. Security is the most crucial factor while selecting the right device for your work. So does that mean that MacBook never get attacked by cyber activities? Well, we wish! Every technology is vulnerable to cyber-attacks. What matters the most is the probability of getting hacked. One of the major benefits of a MacBook is less vulnerability in the context of cyber breaches. Since organizations store, share, & access highly sensitive and private data which are more prone to getting hacked. Though MacBooks have the best security features, it is recommended to add antivirus software for Macs making it stronger.
After reading all the advantages of Macs, we know what you are thinking about. The biggest factor is the price of MacBooks. Even the smallest MacBook Air or MacBook Pro is expensive as compared to Windows laptops. For organizations, offering MacBooks to all employees involves a lot of costs.
But don't worry! We got you covered. You can simply rent a MacBook! All you have to search for is the best service provider offering MacBook on rent. If you are in Pune, you are sorted for life as we, Macviewer are the MacBook rental service provider offering a wide range of MacBooks at feasible rent fees. If you wish to learn more about the offer, you can simply click here.
Vilas August 5, 2021 Laptop rentals, MacBook