Which MacBook is Best? 6 Useful Tips for Choosing the Right MacBook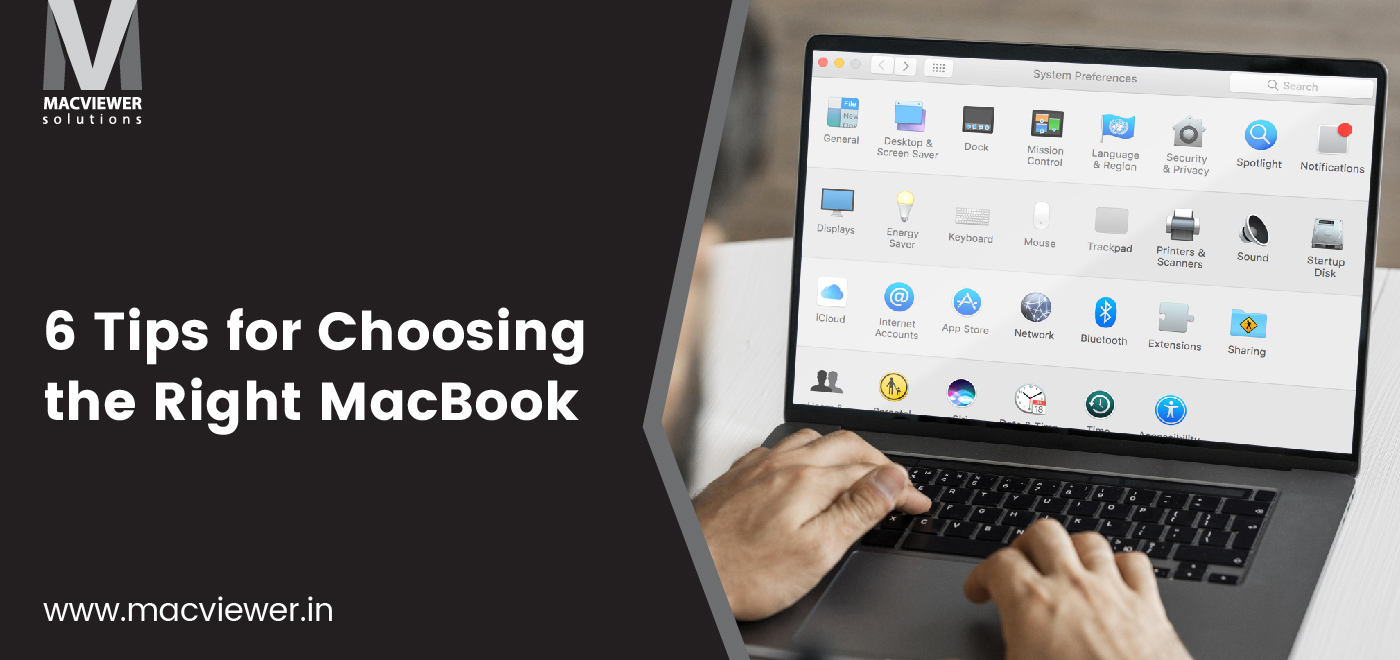 We all know the importance of MacBooks. The Mac devices are designed to keep extremely unexcelled user experience in the centre. It is no surprise that many people prefer MacBooks over other laptops because of various reasons such as premium-quality hardware, amazing features, excellent battery life, advanced technology, etc.
The question arises here is which MacBook is best? What are the factors defining the buying decision of MacBooks? Macviewer, being a MacBook rental provider in Pune, has a team of experts dealing with MacBooks & Windows laptops. Let's see how our experts can help you choose the right MacBook for your work.
Which MacBook is Best? 6 Tips for Choosing Right MacBook
1. Specifications
What specifications do you need to check before buying a Mac device? Though all Mac devices offer excellent specifications, it is important to analyze what your requirements are. Depending on the specific requirements, you can select the RAM, Internal Memory, Processors, Graphics Specifications, etc. MacBook Air 13-inch screen varies in internal storage capacity from 256GB to 2TB whereas the 16-inch MacBooks Air is also available in a whopping 8TB.
If you require MacBooks for minimal usage like data entry work, writing, etc, you can settle with a MacBook Air 13-inch. But if you are a professional designer or a programmer or if you deal in AI, the MacBook Pro 16-inch can be the least you can consider! Other specifications involve graphic cards, sound, ports, etc. According to your usage, you can decide to select the best specifications.
2. Use Case
It is extremely important to consider which MacBook is best, what are you going to do with your Mac device, how are you going to work, and where are you going to work. If you are going to be doing some heavy work related to your profession that requires high-end specifications, you can opt for Mac Computers. If you are going to travel while you are working, you can consider high-end MacBooks.
3. Battery Life
Another factor you must consider while choosing the right MacBook is its long battery life. Whether you are a student, a professional designer or filmmaker, or even using a MacBook for video streaming, you would enjoy a great battery life anyways. Thanks to the efficient M1 chip, all MacBook Pros & Airs have long battery life ranging from 10 hours to 12 hours).
4. Mac Storage
Hate using clouds? Get a MacBook with excellent Mac storage. Again, depending on the work you do, mac storage varies from 256GB to 16TB. Along with internal memory, it is vital to consider the RAM as well. If you are using an M1 chip MacBook, it smartly manages the RAM and even 8GB RAM is enough for average office usage.
5. Graphic Purchase Decision
Are you a professional gamer or a professional designer? If yes, then one thing you need to consider is the Graphic specifications. For an external graphics card, all you need is an Intel processor and Thunderbolt 3 ports to use an external GPU. Make sure your MacBook has all these features to enable enhanced graphical performance.
6. Budget
The most important factor while selecting the MacBook is the cost. We all are aware of the premium prices of MacBooks and other Mac devices. In such a case, if you require high-end specifications but are short of budget, what would you do? We have the answer to this concern; rent a MacBook! Instead of investing a large amount of cost in purchasing an advanced MacBook, you can always rent it from Macviewer at a feasible rental fee.
The best part of renting a MacBook is that you can change your device every time a new version of the MacBook is launched by spending a few more bucks. Now that you know how to select the right MacBook for your work, make a decision and rent it from Macviewer. Click here for more details.
Vilas December 3, 2021 MacBook