Easy Laptop Repair or Replacement- 3 Smart Tips to Decide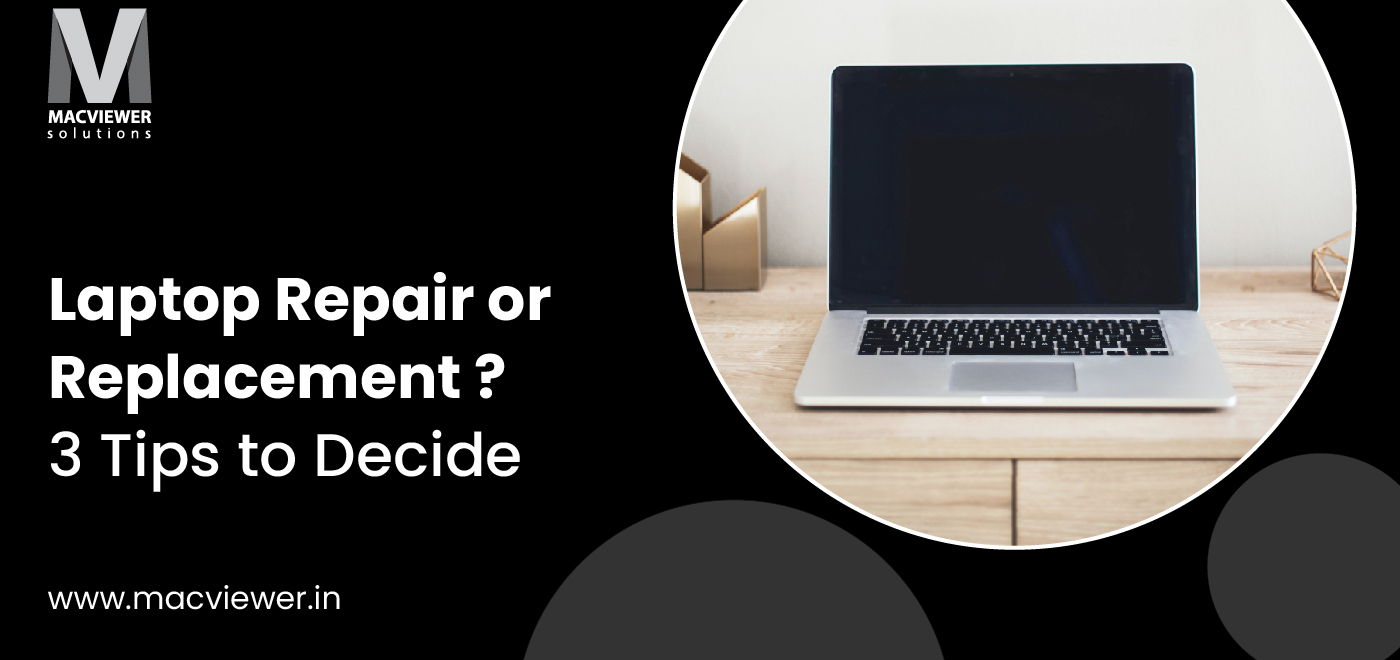 Every Windows Laptop has an average life of 5-7 years where these laptops work perfectly fine (only if accessed well). After a certain period of time, even a well-used laptop starts making trouble with either hardware or software. Most of the time it is easy to choose between laptop repair, laptop upgrade, & laptop replacement. But sometimes, certain issues in laptops put you in a dilemmatic situation whether to repair your laptop issues or simply replace it.
Especially, if you are the head of your company's administration department and it is your call to consult a laptop repair center or a reliable laptop seller, this blog can help you make the right decision. At Macviewer, we have handled several cases where clients feel the need of replacing the devices but we have managed to repair those devices ensuring smooth working for a couple of years. But there has been a vice versa situation as well! This made me think that why not write a blog and help you all out.
Laptop Repair or Replacement- 3 Tips to Decide
1. 50% Rule
Most of the organizations' admins follow the 50% rule when it comes to laptop repair vs laptop replacement. What is this 50% rule? Let me explain with an example.
Suppose your laptop's motherboard & other parts have some serious issues and it is causing your laptop to break down every time you try to access it, so you take it to a repair center near you. If the repair center's engineer estimates the overall repair cost to reach 24,000 INR, you can always opt for purchasing a new laptop instead of investing 50% of the cost of a new one in repairing your years-old laptop.
Instead of spending thousands of rupees on laptop repairing, you can add 20,000 INR to 25,000 INR to your repair budget and get a new laptop that will have the latest & updated features. Now that you understand the rule of 50%, it will get easier to decide whether your laptop needs repair or replacement.
2. Outdated Hardware
One of the reasons you might feel the need to upgrade your laptop is the incapability of your laptop to install the latest versions of important software or to cope with the latest technologies trending in the IT market.
For instance, if you are a developer and use a certain software every day that demands heavy-duty laptops but you are accessing it on your old laptop, you might experience slow processing. In such cases, you can consider upgrading your laptop if possible or replacing the laptop.
Every few months, the technology world surprises us with beautiful innovations & new limits touched. If you are working on an 8GB RAM laptop, there won't be any surprise if you start noticing that 24GB RAM laptops have taken over the entire market in just a period of 6 months. Then how to decide whether you need to upgrade/replace the laptop or not? You can simply ask yourself do you really need to do so? If your usage is limited to sharing emails, internet surfing, and preparing PPTs, you definitely can go along with your current specifications unless your laptop has completely stopped working.
3. Replacing Particular Parts
Another way of deciding is to check whether the laptop is experiencing issues due to a particular component or is it due to multiple problems? If anyone or a couple of components are having issues, you can always consider replacing them.
For instance, if your Dell laptop screen is showing vertical lines, or has some display issues, you can consider repairing it or simply replacing the screen instead of purchasing a new device. The average cost of a Dell laptop's screen is around 11,000 INR. The amount is clearly feasible to pay as compared to buying a new Dell laptop with even similar specifications.
Conclusion
Most importantly having a reliable laptop repair center around you is a game-changer in many cases. Even if your laptop issue can be resolved by laptop repair, you might have to repair it again and again due to poor repair services adding to the overall repairing cost. A professional laptop repair center can guide you well on whether you should repair your laptop or replace it with a new one. If you are a corporate office in Pune and looking for a repair service company, contact Macviewer. Our engineers are smart, and honest and will guide you through the decision.
Vilas February 9, 2022 Laptop tips & tricks, Laptop repair