Want to Make your Macbook Battery Last Longer? Tips In 2023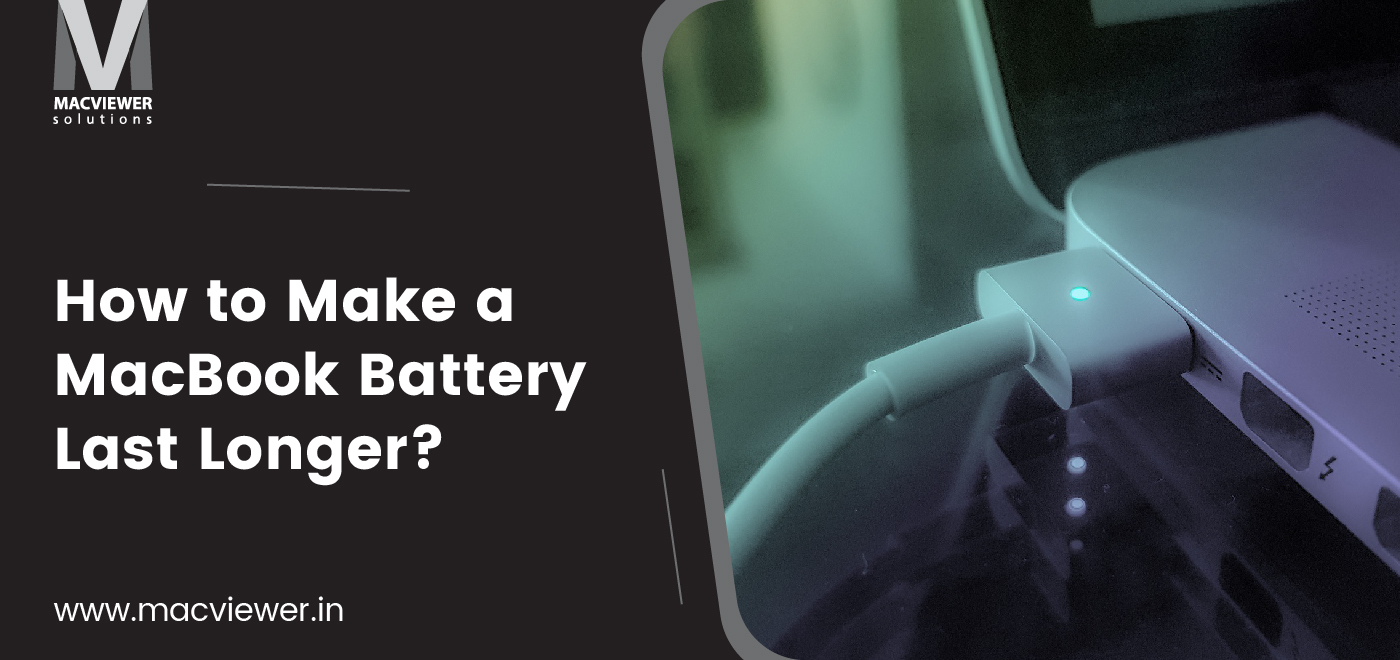 Macviewer has been renting out the latest MacBooks and other Mac devices for several years now and hence we are well aware of the user pain points and hidden tricks to improve the Macbook battery cycle. Many customers often ask us for ways to increase Mac battery life and how to prevent Mac batteries from draining in less time.
To answer all the queries, we have decided to publish an entire article. Keep reading the article and get to know how you can postpone MacBook battery replacement for years!
How to Make a Macbook Battery Last Longer?
First, let us burst with the most common myth about MacBook batteries or any other laptop battery; "don't overcharge your laptop battery". Yes! This is a myth! Let us tell you how.
We at Macviewer did a couple of experiments to evaluate our theory regarding batteries. In these experiments, our primary focus was to check the Mac battery cycles. Let us first tell you what a Mac battery cycle is and how to calculate one effectively.
Let us take an example. If a user charges his Mac battery 100% and disconnected the battery. The user uses the MacBook for an 'X' number of hours till the battery drains completely. This x hours of battery is One cycle completed for your MacBook's battery. Ideally, a MacBook Air or Pro has a capacity of 1000 cycles. That means if your MacBook has completed 1000 cycles, it is indicating that you need a MacBook battery replacement.
Depending on your usage, the battery cycle varies. If you are a regular user or access your entire business work on your MacBook, needless to say, that your battery cycles will get completed a few months earlier than a regular user.
You must be wondering where to check the battery cycle on your Mac devices. Let us help you. Click on the Apple menu and select 'System Information'. Then click on the Hardware section and click on the Power option. Here you can check your current Mac battery cycles.
We kept one MacBook on charge all the time till it was in use and for another, we kept disconnecting the charger once the battery got charged completely. Our experiment showed that for MacBook 1, we had extremely less battery cycles as compared to the MacBook 2.
If you follow the mythical concept of "don't overcharge your laptop battery", you may reach 1000 battery cycles in a few months! But did you know that all the latest MacBooks and other Mac devices use "trickle" charges? The "trickle" charging uses the Mac battery only when the charger is not plugged in. It fetches power directly from the charger whenever it is put on charge. Hence, it makes more sense to keep your device on charging all the time you are working.
We understand the electricity consumption factor as well. To save your electricity bill and achieve fewer battery cycles in a month, you can always schedule the charging manually once your battery is at a certain percentage. Also, if you work while you travel, keeping your MacBook constantly on charge cannot be feasible. You can try to charge it as much as you can to continue your work whenever you are travelling.
In addition to this, there is another tip to make a Mac battery last longer is to use the fewest applications at a time. We understand that every work requires different applications running at a time depending on the nature of work. But if possible, try to make it a habit of shutting down applications that are not required to run in the background or that are not in use.
Conclusion
Best battery backup is one of MacBook's specialities. Though every machine has its limitations, you can always try the above tips to increase battery life and avoid MacBook battery replacement. If you wish to leverage the unique benefits of MacBooks but budget is your top concern, you can always rent it from Macviewer. Macviewer is a Pune-based MacBook & Laptop rental company with a wide array of the latest Mac devices. Click here to know more.