MacBook Pro Screen Flickering: 5 Easy Ways to Fix It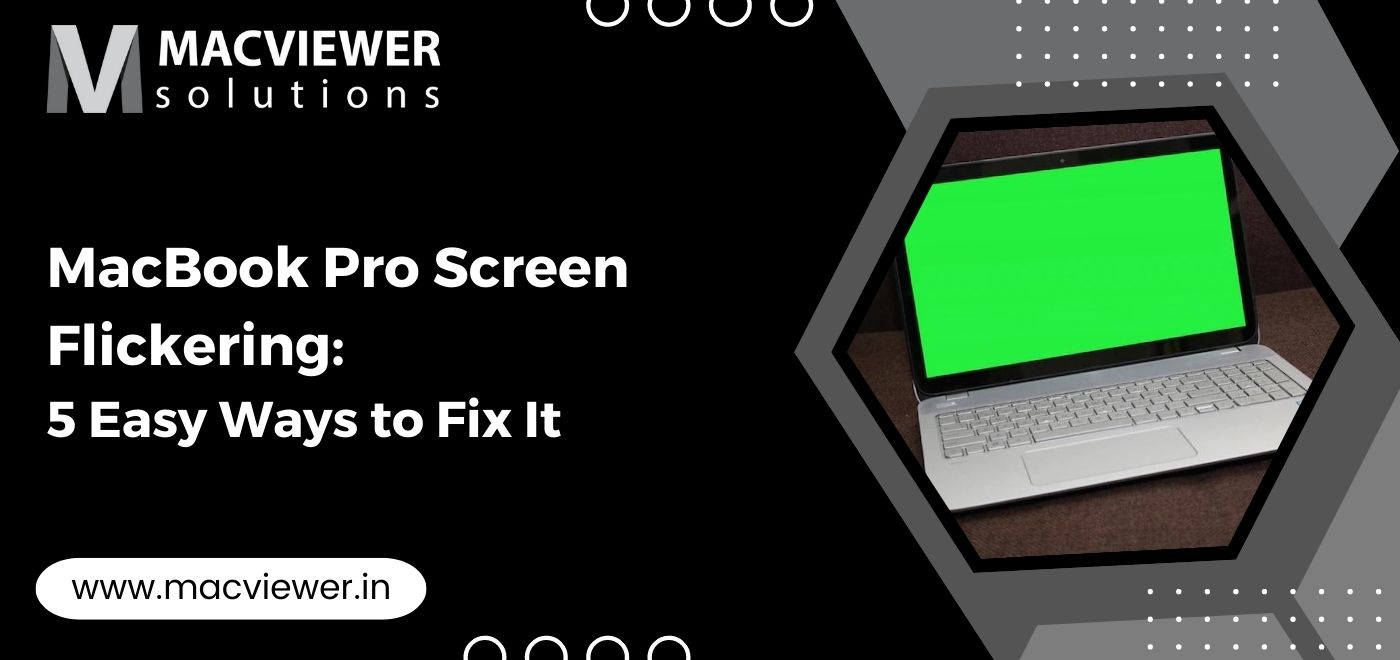 If you are wondering why the MacBook pro screen flickering issue is happening on your device, you are at the right place. There are usually many reasons why this takes place, and by no means is it an uncommon issue.
Let's try first to understand where and how MacBook pro screen flickering happens. If the glitches are lines, they will appear on the retina as well as non-retina screens. This can also affect when you are using the terminal, or if there is a problem with your graphics. If this happens, they tend to take over your entire screen and prevent you from viewing it. In some situations, they even lead to your Mac shutting down automatically.
As mentioned above, MacBook screen flickering is a common issue- especially in older versions. The flickering can also come from your macOS not being compatible with the graphics processing unit. This is common, particularly in M1 Macs. But, don't worry, in our 10 years of expertise we have solved this issue countless times.
Through our experience, here are a few particular solutions you can try to get rid of the MacBook Pro Screen flickering issue:
MacBook Pro Screen Flickering: 5 Solutions to Try Out!

1. Make sure your macOS is updated
Many times the issue might stem from the operating system being incompatible with the graphics card. If you own a Mac, it is very important to keep it constantly updated for the best performance. This could also be causing the MacBook pro screen flickering issue. Follow these steps to update the macOS:
Open System Preferences from the Apple Menu.
If you can see the update option, that means your mac is not updated.
Make sure you back up your data.
Click on update and follow the instructions on the screen.
Here is how to automatically update your macOS and Installed apps on your MacBook!
2. Try to Use Maintenance Scripts
The Macbook pro screen flickering problem can be annoying- especially if you don't know how to get rid of it. You can try to get rid of it through maintenance scripts, which is a feature that solves any glitches your Mac may be experiencing. Follow these steps:
First, launch Terminal through the Spotlight Search
When the screen pops up, type in sudo periodic daily weekly monthly precisely. Enter your administrative password.
Your Mac will start running 3 maintenance scripts.
3. Reset your Mac's PRAM or NVRAM
The PRAM or NVRAM of your MacBook are types of RAM that store information or data. Sometimes they don't start up properly, causing all sorts of glitches to take place. This may be the root cause of your MacBook pro screen flickering problem. Here are the steps to reset your Mac's PRAM or NVRAM:
Shut down your MacBook completely.
While restarting, press and hold the Option, Command, and P & R keys together. This will allow a PRAM or NVRAM reset.
Here are more methods to reset the PRAM or NVRAM of your Mac!
4. Check the Energy Saving Settings
This feature is good for MacBook Pro users. Sometimes the energy saver functions incorrectly and can cause the MacBook pro screen to flicker or blink. To solve this, you simply have to go to Battery in System Preferences and uncheck the box next to Automatic graphic switching.

6. Set your Mac to Safe Mode
These steps can try to get rid of the macbook pro screen flickering issue:
Shut your Mac down completely.
Turn it back on while pressing & holding the Shift Key.
Keep pressing down on Shift until you see the Login screen.
You have entered safe mode.
Enabling your Mac to this mode lets it disable service and also puts a few into a low-operating mode, especially screen regulations.
Conclusion:
We hope your MacBook screen flickering issue was resolved through these methods. A few more basic tricks you can try are to simply restart your Mac, or disable the true-tone to get rid of the MacBook pro screen flickering issue.
If the problem still persists, I would suggest that you take your device to a trusted laptop repair center. With 10+ years of technical experience, Macviewer is the number one support system for MacBooks and laptops. Call or enquire if you are in Pune/ the PCMC area today!
Vilas November 14, 2022 MacBook, Laptop tips & tricks