'Work From Office' Started? Best 4 Ways How Laptop Rental Services Can Help You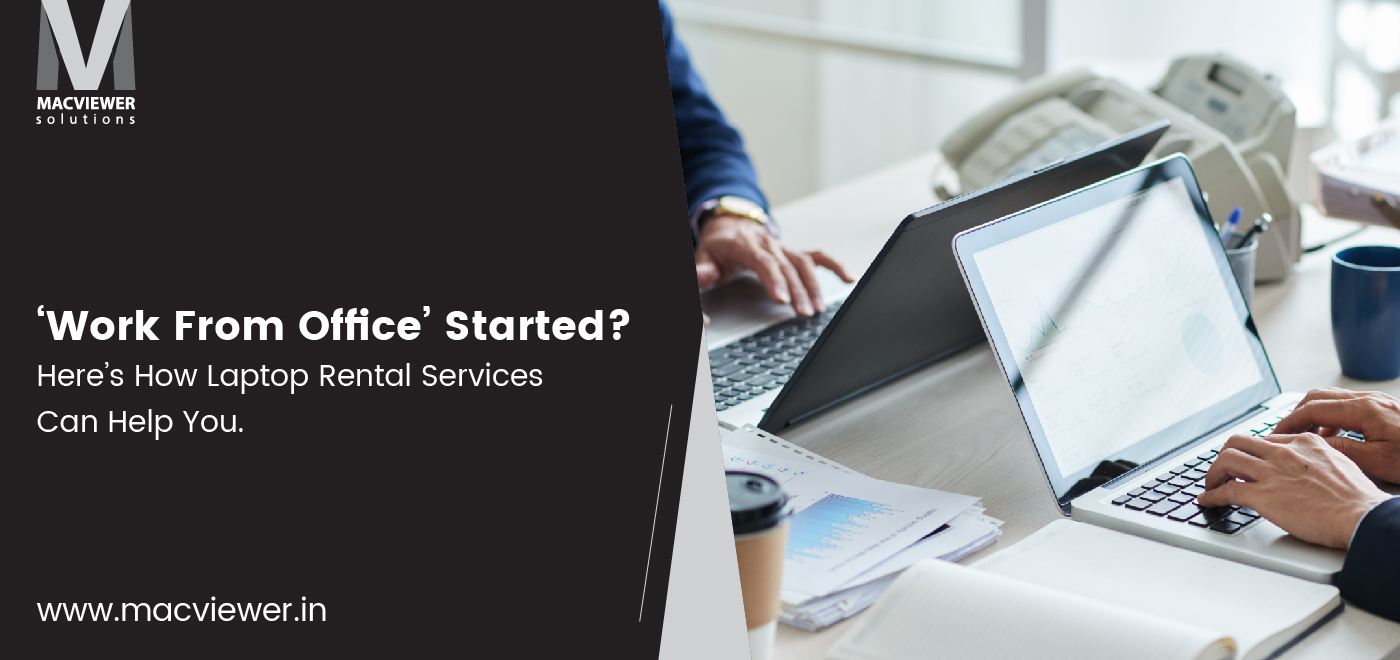 The pandemic is slowing down and people are getting back on their feet now. The offices are opening again! Yes, you get to meet your office buddies after a long time!
Organizations like you might have experienced a downfall in these months due to the rapid spread of Covid 19 and lockdown all over the world. Most of the organizations around the world faced economic degradation and were not even prepared for taking the infrastructure to the 'Work From Home' system.
Many organizations where most of the work happens on computer systems, had a big question where to get laptops/MacBooks from and how to raise the budget to provide laptops/MacBooks to every employee?
Most of the organizations found a solution by renting MacBooks from reliable laptop rental services. Renting a MacBook has various obvious advantages and many hidden perks as well. But now that the work from office trend is back, why renting MacBooks is still the best option for enterprises and even startups?
How Laptop Rental Service Is the Best Option for Organizations Opening Offices?
Flexibility
Your organization can have the liberty of switching between work from home & work from the office with high convenience. Your employees can even opt for remote working and won't face any interruptions in work. All the flexibility of devices can be achieved without investing a huge amount in purchasing the MacBooks. You can simply rent whatever number of devices you want.
Cost Saving
This is one of the most vital reasons why an organization like yours must consider renting MacBooks & laptops instead of buying them. Depending on the number of employees, and tasks to be performed, you can rent the laptops at feasible charges.
Prevention Is Better Than Cure
We sincerely hope that no such pandemic should again hit the world and history doesn't repeat itself. But if you think smartly, what is the harm in being prepared for the worst? Before the 2020 pandemic, nobody even thought that any such disease would have such an impact on the world. Hence, it is important to consider similar situations in the future and be ready.
Try Before You Buy
If you are planning to purchase a few MacBooks for your organization, you can look at renting as a 'try before you buy' opportunity. You can rent MacBooks and laptops with different specifications and make the right decision. Since MacBooks are a bit expensive, you can always try those first and buy the same devices later.
Conclusion
No matter if you are working from home or have your office opened, renting MacBooks & laptops is always feasible. If you are looking for a complete setup or even a single MacBook on rent for your office in Pune, you can contact Macviewer. Macviewer is one of the best laptop rental services in Pune and has various amazing devices that can optimize your business processes.
Vilas July 20, 2021 Laptop rentals, Laptop, MacBook