Best 5 Ways to Speed Up Your Laptop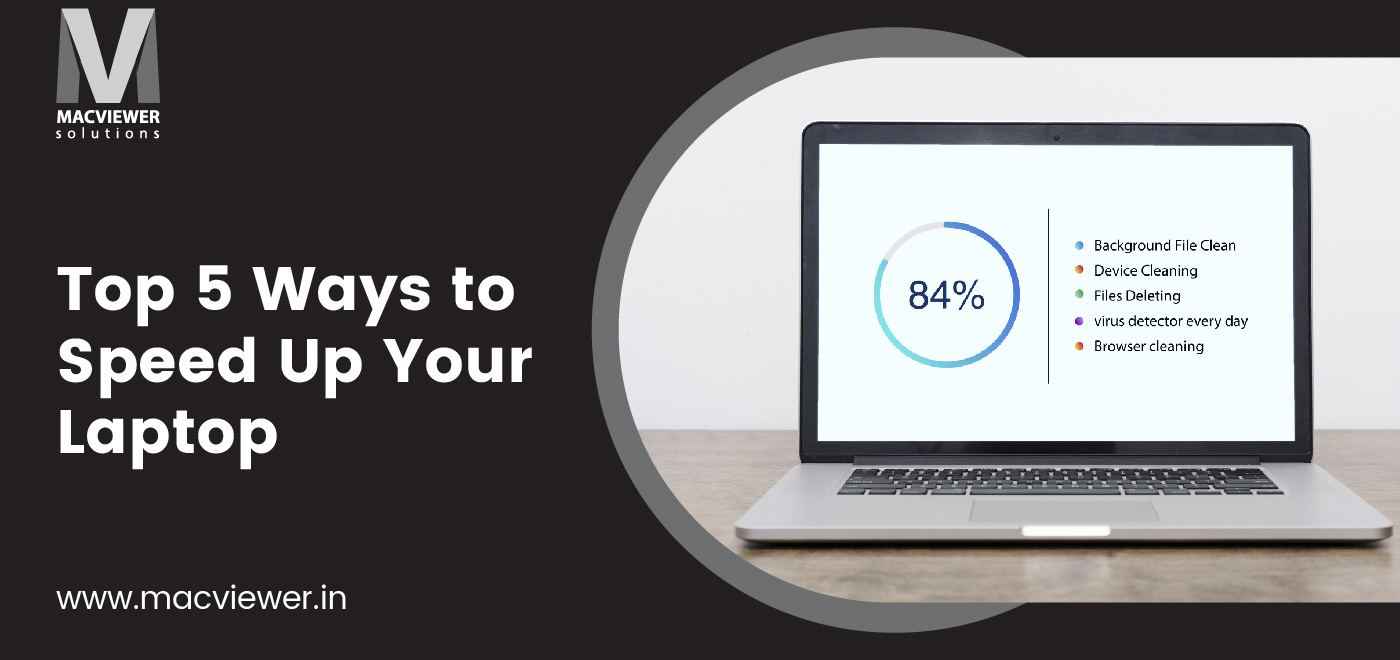 100 lines of code can be written in a single day. 2 creative blogs can be written in a single day. An innovative app can be designed in a single day. A lot can be done in a day only if your laptop processes super fast. Being productive is deeply related to a fast processing laptop/MacBook. If you are facing a slow laptop, here are some amazing tips you can follow and try your luck to speed up your laptop. We will also tell you what to do if your laptop is still slow in the end.
Top 5 Ways to Speed Up Your Laptop
1. Close excess of programs running in the background
Do you often forget the programs running in the background that you no longer use? Same here! Is it a universal thing? Anyway, every program running in the background uses a significant part of RAM. Since the program is not in use or is no longer, you can simply close the program.
2. Clean your drive
Open the run menu i.e. the search program & files option and type "cleanmgr.exe". This command allows your system to clean the drive by removing cache files, temporary files, and unnecessary program files. This helps you free up space and optimize the performance of your laptop.
3. Delete files that are no more required
Another common mistake we all make is to store stuff that we do not need at all. Has it ever happened to you that you randomly scrolled through your files and noticed several movies, audios, videos, images, software, and apps that you do not use at all? If yes, then the first thing you should do is to get rid of such files and give your laptop some space to breathe.
4. Run a malware & virus detector every day
Every job these days requires an internet connection. Though it completely depends on what you surf, there can still be some exceptional cases where malware & viruses may enter your system. Needless to say that these malware & viruses can cause extreme harm to the system as well as put you at risk of losing your sensitive data. I recommend installing an advanced antivirus in your system and scanning for malware every day.
5. Browser cleaning is a must
First, let me ask you, are you using Internet Explorer? If yes, then I strongly recommend shifting to Chrome as it is way more advanced, secure, and better in terms of features. If you already are using Google Chrome, let me tell you how to clean it after every few days. Click the 3 bars/dots icon on the top right. Select the "Tools" option and then select the "Clear Browsing Data" option. Your browser's unnecessary data such as cache items & cookies will get deleted automatically.
These are the basic top 5 things you can try if your laptop is processing slow. As promised at the beginning of the blog, I'll tell you what can be done if your laptop is still slow. Take it to Macviewer! Macviewer is a Pune-based laptop repairing center where you can consult for any complex query about your Windows Laptop or MacBook. Be it a solution to speed up your laptop or to repair a crashed laptop or repair your laptop's hardware part, our Engineers are here to help. So if you are looking for a reliable laptop repair center in Pune, click here.