Blue/ Black Screen Error- 7 Super Easy Ways to Fix It!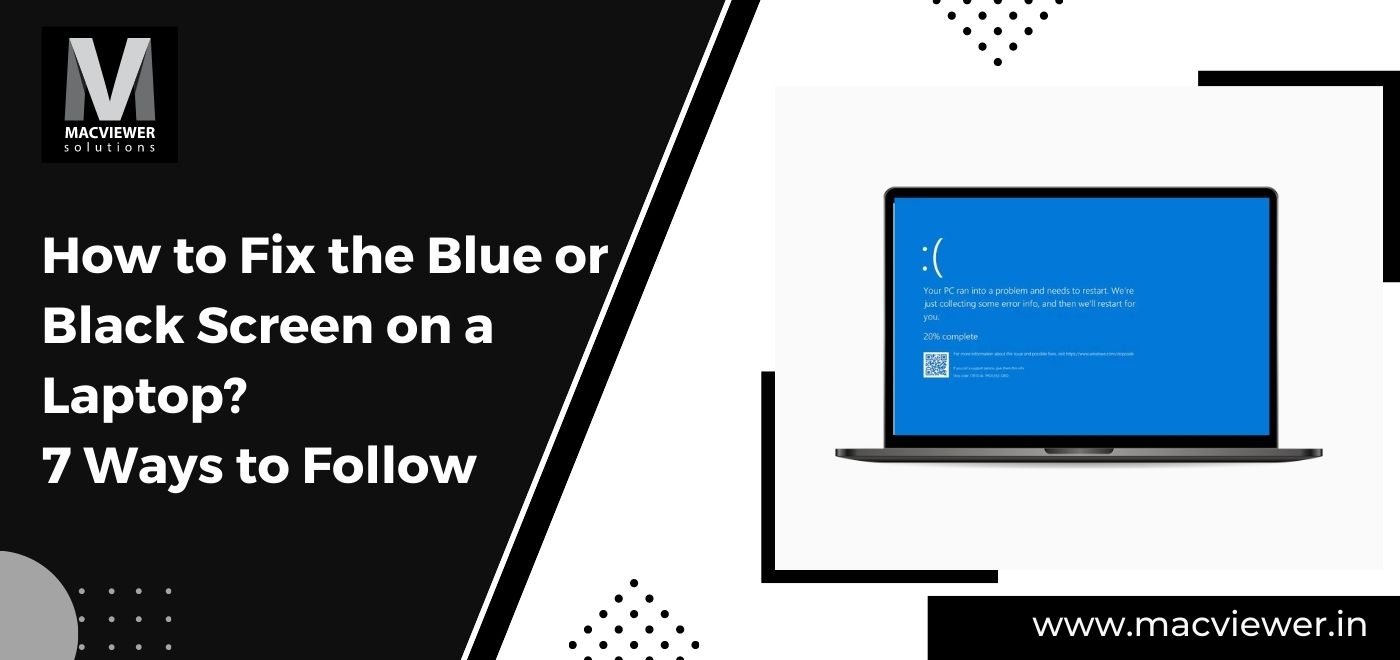 It can be frustrating when all you want is to turn on and work on your laptop- but all it shows is a blue or black screen error. If this happens to you, don't worry and don't panic, as it's a common problem many windows laptop users share. There are many reasons why your screen and laptop are acting like this, and the first step you should take is to understand the base problem and then seek out the appropriate solutions. Here is how to fix the black screen error on the laptop or the blue screen!
How to Fix the Black Screen on a Laptop- Fix Black Screen Error
A few basic reasons as to why your laptop has a black or blue screen error are as follows:
Fault in the Software/ Application/ Program
Fault in the Application while Starting Up
Connection Issues such as loose cables
Faulty or Outdated Driver
Problems with the Graphics Card
Hardware Issues
Virus/ Malware/ Trojan
Apart from these issues, there are also a few specific reasons that your laptop is displaying a blue/black screen error.
Usually, the blue screen is visible when there is something faulty. This is also known as the stop error and shows up when there is a defective application, program, or even update. The screen usually contains a message that your laptop needs to restart.
For a Black screen error, the issue lies in hardware problems or because of a faulty device driver. This screen is also known as the Black Screen of Death (BSOD).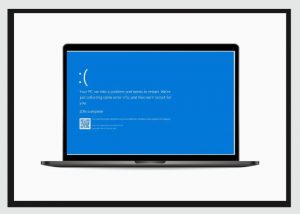 How to Fix the Black Screen Error on a Laptop?
A black screen error on your laptop can be increasingly frustrating if it occurs while you are in the middle of working. Here are a few simple yet effective methods to try when this happens:
1. Restart Your Explorer
In case there is anything else on your black screen like a cursor or a message, there was likely an error. Using this method can help you eliminate this error. Follow these steps:
Press Down Control + Alt + Delete
Go to Task Manager
Right- Click on Windows Explorer under Processes Tab
Click on Restart
2. Look for Loose Cables & Connection
Although it's more probable for black screen error, the blue/black screen error sometimes arises from loose or broken connections. Some many wires and cables might be plugged into your laptop or PC. These include HDMI, DisplayPort, etc. Make sure you replug all these thoroughly. Another reason for the blue/ black screen error could be due to dust in the ports of these cables. You will have to utilize a toothpick to clean them out.
Here is a blog on how to keep your laptop clean! https://macviewer.in/laptop-cleaning-services-cost-in-pune/
3. Check if it's a Display/Screen Issue
Many times the reason for your laptop to showcase a black screen error could be because of an underlying screen/display malfunction. A few methods to reassure this are trying to connect your system to a different display and checking for the black error. Try out different resolutions for the same as well, as screens usually go black when there is a mismatch.
If the problem is one where there is a screen issue, check out this blog for tips on replacing laptop screens! https://macviewer.in/tips-to-avoid-laptop-screen-replacement-cost/
4. Faulty Update of Display Adapter Driver/Graphics Card
Another reason for your screen going black is a faulty update in the Display Adapter Driver/ Graphics Card of your laptop. Especially if you see a black screen error after an update, the issue is definitely because of the driver/ card. You can easily undo the update with these easy steps:
Use Safe Mode to Start your system
In the Search box, type Device Manager and click on it
Now find Display Adapters. Click on it to expand it and right-click to find Properties.
In the Driver tab, select Roll Back Driver and click on Yes.
5. Use Windows Key Sequence
If your screen is simply sleeping, try pressing down Windows + Control + Shift + B. This will help your Windows respond and you might hear a beep as the system refreshes.
6. Sometimes Antivirus can be the Problem
We download and install third-party antivirus software without a single doubt. But these can cause more harm than good. If not downloaded properly, or from a false site, this software could be the reason behind a black screen error. This could also happen if the software is not compatible with your device. To uninstall the software, you will need to follow these steps:
First, reboot your laptop in safe mode
In Settings, go to Apps
Select Apps & features under this
Find the Sort By option and set it to Install Date
Search for the antivirus software and click on Uninstall
Restart your device and check for the error
How to Fix the Blue Screen on a Laptop?
You can use most of the methods mentioned above to try and fix the blue screen on your laptop as well. If this does not work here is a method that can work for blue screen-related problems specifically.
1. Uninstall Faulty Updates
The primary reason for a blue screen to pop is due to a faulty update. The best course of action now is to uninstall the said update. Here are the steps to do so:
First, you will need to enter Windows Recovery Environment (WinRE)
Press & Hold the power button for 10 seconds and turn off your laptop. Turn it on again using the power button
Repeat this step by pressing down the power button for 10 seconds right after there is a response on the screen. Turn the laptop on again.
Please repeat this step once more till the laptop is turned on again.
After 3 times, your laptop will enter WinRE.
Now, you must start your Windows in Safe Mode.
The Choose an Option screen will pop up. In this first select Troubleshoot, then Advanced options, then Startup Settings, and finally Restart
Conclusion
A few more basic methods you can try out are to unplug any external USB or drives connected and restart your laptop again. Enclosed in this blog were a few methods to fix a black screen error on a laptop. We hope these tips worked out for you. If in case your screen is still showing a blue/ black screen error, you can contact a laptop repair/ service center. In trustworthy centers, Macviewer is the number one choice for people living in Pune/ the PCMC area. We even come to where you are to solve laptop-related issues! Contact us to find out about our complete services today!
Vilas October 10, 2022 Laptop, Laptop tips & tricks, MacBook