8 Valuable Safari Features on Macs to Boost Productivity!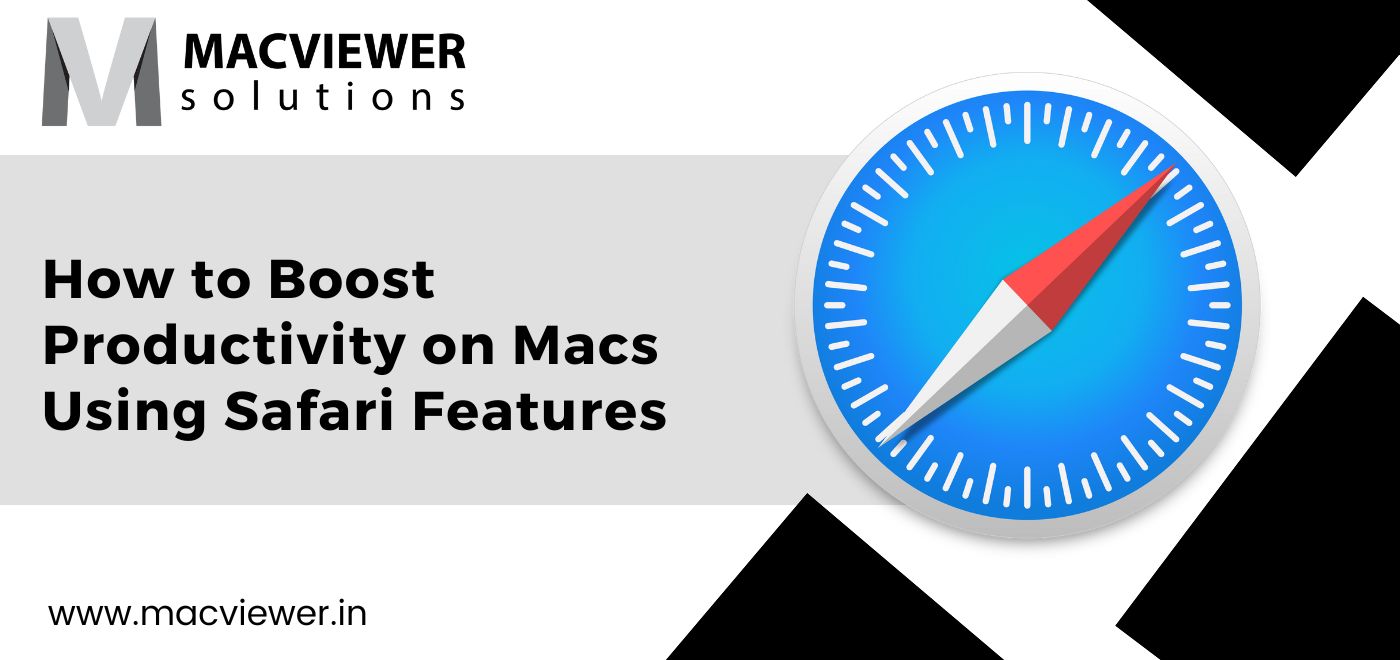 If you are a Mac User, your default browser is probably Safari. And if you are new to Macs in general, then you might find it difficult to work around. What if I told you that there are tips and tricks to simplify using Safari while also making it more efficient?
In 2020, Apple introduced a matrix of shiny features in Safari that included improved developer tools and increased app discoverability. Many features of Safari are hidden- much like the best attributes of apps that are not easily found. Using these can give a boost to your productivity. Without further ado, here are some of the most useful hidden Safari features to elevate your work or research while browsing online!
How to Improve Productivity on Macs Using 8 Valuable Safari Features
1. Personalize Your Toolbar
The first and more accessible aspect you can view when you fire up your safari is the toolbar. Unlike Chrome, the tabs are below the toolbar, and most of the functions used are in a single bar, including various buttons along with your address bar. It makes sense that you customize the toolbar to make the most out of it!
Depending on what you use your Safari for, there are bound to be functions you use most, and functions that are untouched. For example, you can add the share button, to make sharing websites and links effortless. Similarly, you can remove the buttons that are of no use to you.
To fully customize the toolbar and shape it the way you need it with this safari feature, right-click on any part of the toolbar, and select Customize Toolbar. You will find buttons and functions that are helpful in several ways for online tasks. You can play around with them to discover what each one does and drag and drop the most useful ones on the toolbar. By using flexible space, you can add distance between buttons and text bars as well. Once you are satisfied with the look of the toolbar, click on Done to save your changes.
2. Arrange, Pin & Mute Tabs
If you want to reorder all the tabs open on your safari, the Arrange Tabs feature is perfect for you. Using this safari feature, your tabs will automatically rearrange according to their website or title. Simply right-click on any tab, and select Arrange Tabs at the bottom of the drop-down. In the same, you can also choose either Title or Website. This feature allows you to get a glance at once when you have an infinite number of tabs open!
After you right-click, you can also select Pin Tab, which pins a specific window to the start of your tab bar. Similarly, you can mute a tab to prevent background noise disturbance by pop-up ads or notifications. To do this, either click on the speaker icon available in the address bar.
3. Block Notifications & Pop-Ups
Many people install ad-blockers to get rid of pesky ads or notifications that jump in your face while opening a website. Ad blockers are pretty reliable sometimes, but this built-in safari feature does the same for you, without the need of downloading shady extensions! In the Safari Menu, go to Preferences and select Websites. In the General settings, select Notifications. Deselect the option that says "Allow websites to ask for permission to send notifications". Below Notifications, you will also see Pop-up Windows. With this feature, you can Block, Allow, or Block & Notify about any pop-ups that will appear on the site you are on.
 4. Reader View Feature
Some websites are designed to be distracting. Between recommended articles and posts, to ads in between, it can be hard to focus and understand the content your website has. For a clean, neat, distraction-free version, Reader view is one of the many safari features you can use. Simply click on the reader icon on the left side of your address bar. All the ads, recommendations, and complicated formatting will disappear to make way for a minimal format which makes grasping easier.
 5. Handoff Feature to Connect Your Apple Devices
Imagine you have a certain website open on your iPhone or iPad. You can smoothly switch between your Mac and iPhone with the Handoff feature! In the Apple Menu, open up System Preferences and Select General. At the bottom of the window that pops up, check the box that says "Allow Handoff between this Mac and your iCloud devices". Now, on your iPhone or iPad, go to General in the Settings. Over here select the "AirPlay & Handoff" option and turn on "Handoff".
Once the options of both the devices are set, you will find a Safari shortcut appear on the left side of your Mac's Dock. If you click on it, the website on your iOS will open up on your Mac!
 6. Utilize iCloud Tabs
iCloud is a feature introduced by Apple that stores your files and bookmarks on cloud storage for a particular account. It's similar to the Handoff feature, but through iCloud, you can control tabs on your iOS from a Mac, and vice versa. Go to View and click on Show Tab Overview. You will be able to see, close, and open the tabs open on other Apple devices from the bottom of the screen.
 7. Export Web Pages As PDFs
It's extremely easy to save and export particular web pages or sites on Safari as PDFs. Simply select "Export as PDF…" on the File Menu. You can add any tags you wish, and select the location of your file. Click on Save to export.
 8. Floating Tabs for All Sites!
By far, this is one of the coolest safari features. This feature is called Picture-in-picture and allows videos to play over & be adjustable over any site or page. Many famous video streaming platforms have enabled this feature as well. To enable a floating video from Youtube, right-click 2 times on the video, and select "Enable Picture in Picture". This will let a small floating frame of the video stay on your screen on any website you open. You can also move it around, and readjust its size. On other video sites like Vimeo, the Picture-in-picture option will be available in the video options.
Conclusion
Apple is committed to making your life easier. With constantly changing technology and new developments, they take special care to ensure that you work smarter, not harder. These are hardly a few of the ample Mac and safari features you can use to boost your productivity. To get a feel of more such safari features, you can rent highly efficient and functioning MacBooks from MacViewer, your trusted Laptop repair and service center! Contact Us today to rent your MacBook.
Vilas September 26, 2022 Laptop tips & tricks, Laptop, MacBook