What to Do Before You Give Away or Trade in Your Mac?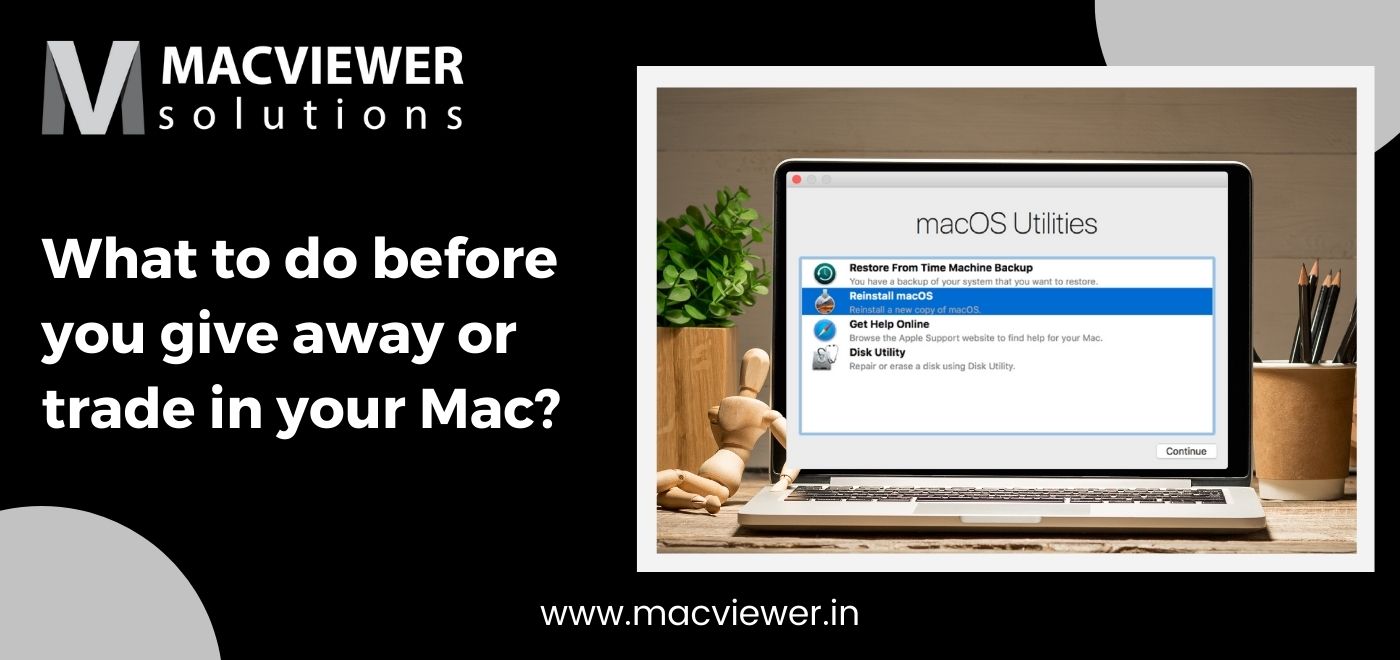 Wonder how to factory reset a macbook? Here is a step-by-step guide you should follow every time you are giving away your macbook.
If you are a MacBook user and have to reset your MacBook, there can be these possible reasons for factory resetting MacBook
Lending the device to someone

Selling it away

Giving it away 

Giving it for repairing
Reason can be anything from above or any other reason, what is important is to understand how to factory reset MacBook. It is extremely important to erase every byte of data from your device to ensure no one sneaks into your personal information. Be it a MacBook used for personal or professional work, having every data erased before giving away your MacBook is vital.
Before starting the step-by-step guide to factory reset the MacBooks, there are certain things you must consider. Here is a guided list of what is to be erased & how.
Step By Step Guide To Factory Reset The MacBooks
1. Sign out of iCloud
Many of us have a habit of storing every bit of data on the cloud. It is also convenient as it saves a lot of space in the MacBook and the data is accessible anytime anywhere! Hence, make sure you sign out of the iCloud from your MacBook before handing it over to someone else. How to do so?
Click on the Apple Menu> Go to System Preferences> Click the Apple ID> Check side panel & select iPannel> Turn off Find my Mac> Click on Overview> Select Sign Out.
2. Remove the Hard Drive & reinstall macOS
Simply remove your hard drive from your MacBook as we don't want you to lose your precious data or let anyone access it without your consent. But how to reinstall macOS? You can simply use macOS Recovery to reinstall your macOS. Once you reinstall the macOS, you will see a Welcome screen that will ask you to choose your region. If you wish to leave the device & let the other person take over, don't continue the setup process. Instead, you can just press Command-Q & shut down the device.
3. Backup your MacBook data
Needless to mention the importance of MacBook backup before you hand it over to someone else. There are different ways you can backup your MacBook data. You can either store everything on the iCloud or in the hard drive. You can also visit this mac backup and use backup with Time Machine.
4. Sign out of iTunes
If you are or are not a music lover, you should sign out of iTunes.​​ There is a simple process to sign out of iTunes. Let me explain that to you all. Open iTunes application > Choose your Account > Select 'Authorizations' > Select 'Deauthorize This Computer'.
5. Sign out of iMessage
Signing out of iMessages is equally important as it may have vital messages you don't want anyone to have access to. Go to iMessages> select Messages> select Preferences> click on 'Accounts'> Select your iMessage account> click on 'Sign Out'.
Conclusion
Follow these easy steps before you hand over your MacBook to anyone. Having everything cleared from your device is very important & easy as well! For any laptop & MacBook repairing services, you can contact us; Macviewer. Click here to learn more about Macviewer.
Vilas July 11, 2022 Laptop tips & tricks, Laptop, MacBook