6 Tips to Solve Laptop Hanging Problem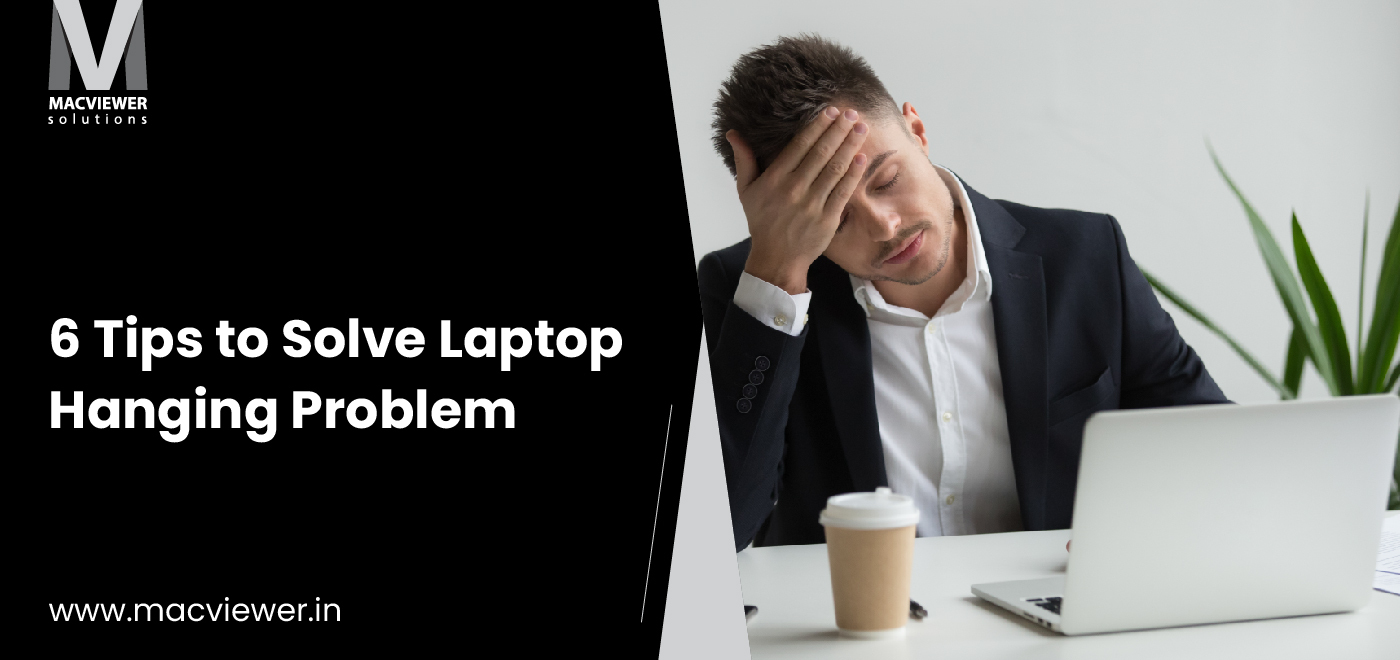 Hello and welcome to another tips & tricks blog by Macviewer. Today I am going to tell you common reasons why laptops hang and how to solve the laptop hanging problem. Let's start with some real cases that I have come across at Macviewer.
Recently I got a call from an IT firm in Pune with a request to check their office laptop that was hanging consistently in the middle of a client presentation. Another day we had an inquiry to repair an office laptop that stopped working completely and the team was worried about losing the data. You can imagine the scary situation both the cases had! My team of engineers reached out in time and took care of the issue. But it made us clear that a hanging laptop can create chaos in offices or even with professional individuals.
So let's learn what are the common causes behind laptop hang issues and how to resolve these problems at home.
6 Tips to Solve Laptop Hanging Problem
1. Excess of Tasks
One thing I have noticed with office laptops is that employees often open multiple programs in a day and never close those programs ever! Especially if you are working at a design or a development company, you must be familiar with opening multiple tasks as any program is required at any time of the day. This can be one of the reasons why your laptop freezes.
You can simply turn off the unwanted programs running in the background and get rid of laptop freezing. If you are not sure which one to close, simply use the command- "Ctrl + Alt + Delete" and the Task Manager will appear in front of you. The Task Manager window shows how many programs are running in the background and the RAM consumed by each program. You can simply select tasks/programs consuming maximum RAM and close them from Task Manager.
2. Overheating
One of the common reasons why laptops hang often is the overheating problem. An overheated laptop automatically slows down the processing and ultimately freezes the laptop. There can be multiple reasons why your laptop gets hot while you are working on it.
The first reason is the one we discussed above; excess tasks running in the background. Another reason can be due to dust & dirt clogging in the cooling system. If so, clean it with cotton or a cleaning brush. Or you can simply invest in a cooling pad that will prevent your laptop from overheating and offer relief from multiple similar problems.
3. Update
If you are a Windows 7 or Windows 8/8.1 or Windows 10 user, I recommend you to check the latest system updates available. If it has been an awful time that you have not installed your Windows updates, it's high time you do.
You can go to the control panel or settings, and check for the update & security/system & security option. Check for the updates, click on the Windows Update button, and install it. You might have to restart your laptop once the installation is complete. Hence, make sure you save all your unsaved important data before you install an update.
4. Insufficient RAM
Too much work pressure on a tiny little RAM can ultimately cause laptop hanging problems. How often do you multitask on your laptop? If you are a multitasker and access numerous programs at a time where you can not even apply the solution mentioned in point #1, you can consider replacing your laptop's RAM.
Many office laptops have standard RAM and internal memories suitable for all employees. But when a professional developer or graphic designer starts working on such laptops, they often complain about the freezing laptops. If you have noticed similar conditions in your office, you can consider replacing old RAM with better capacity RAM only if the laptop allows it!
5. Hardware Problem
Dropped your laptop from a height? Spilled hot coffee on it? Hit a cockroach with it? Hahaha, someone might do that, you never know! Even if you have not noticed any damage, after a certain period, laptop hardware needs maintenance.
If there is a hardware problem, you can replace the component or consult a professional laptop repair service company. It can be due to a hard drive issue as well. If so, you can consider replacing HDD with Solid State Drives that work faster.
6. Malware
Let's not forget that all corporate laptops are constantly exposed to the internet. All the employees require an internet connection to access information online or to perform daily tasks. In such cases, there are higher chances of malware attack or virus breached issues.
If so, you can always install branded and reliable anti-virus & anti-malware software on your laptops. I strongly recommend the installation of security software especially to corporate offices as the laptops perform on crucial data and companies cannot afford to lose vital information to malware & viruses.
Conclusion
Even after trying all the above simple & easy solutions to repair laptop hanging problems, if your laptop still freezes, take it to Macviewer. Macviewer is a laptop repair company in Pune & Pimpri Chinchwad with a team of experienced engineers who are skilled to resolve every type of laptop issue. Click here to know more about laptop repair center in Pune.
Vilas February 1, 2022 Laptop tips & tricks, Laptop repair