Laptop Not Charging? Steal These 5 Tips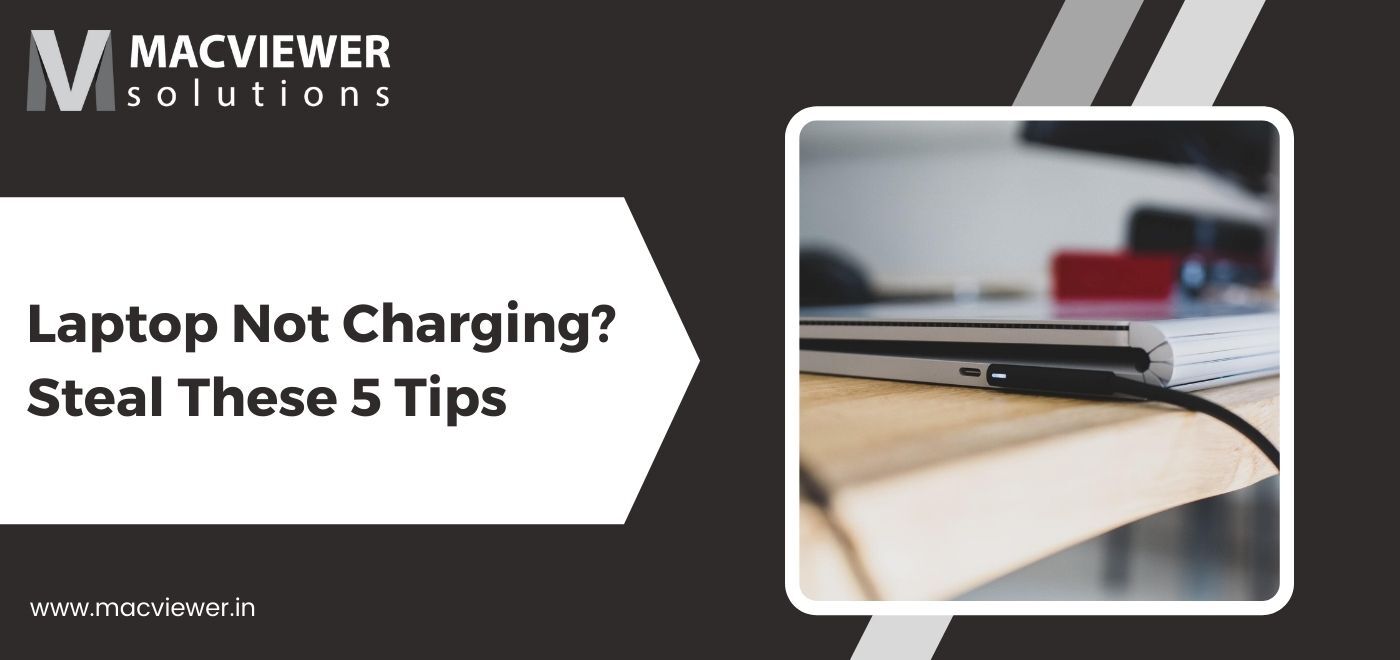 Is your laptop charger not working? We understand the pain. When you are working with complete focus and suddenly realize that the charger you plugged in hours ago is not working. Or worst-case scenario, you are getting ready for a meeting while your laptop is getting charged and later you realize the charging has stopped. We can understand panic attacks in such situations. And hence, we have brought you these 5 useful tips to utilize if your laptop charger is not working.
5 Tips to Follow if Laptop Not Charging
1. Check the obvious
Though it might seem funny, I recommend you all check your connections. Check whether you have plugged in the charger properly if the switch is working if the switch is on, & if the adapter is properly connected. Many times such funny incidents take place at Macviewer. Clients visit our offices to repair their laptop charging problems and it turns out that the connection was loose.
2. Check for physical damages
Is there any crack in the wiring? Is the charger broken? If you happen to drop your laptop charger by mistake and now it is not working properly, it can be physical damage. In such cases, I recommend you to immediately disconnect the charger from the laptop as it may cause an electrical disaster and also may affect the laptop. If this is the case, take your laptop & charger to Macviewer and our professional engineers will take care of it.
3. Remove the battery if possible
If your device allows you to loosen the battery, do it. Take out the battery and hold the power button for 15-30 seconds to drain the residual power from the laptop. Later, plug in the power cable, turn the laptop on, and check if the laptop is working properly. If it is working smoothly, we can safely conclude that the battery has some issue and the charger is fine. What to do if the laptop has in-built batteries as most the Mac devices have? Take it to Macviewer!
4. Update the battery driver
Follow these following steps if you are using Windows 10 and your laptop battery refuses to recharge itself.
Press Windows + X keys and open Menu

Open the Device Manager

Select Batteries in Device Manager

Then click on 'Microsoft ACPI-Compliant Control Method Battery' and select 'Uninstall'

Confirm Uninstall command

Later click on 'Action' and select 'Scan for hardware changes'

Click on 'Batteries' and right-click on 'Microsoft ACPI-Compliant Control Method Battery' again

Click on the 'Update Driver Software' option

Click on Search automatically for updated driver software and get suitable Battery drivers for you
5 Seek professional help
My last tip for all those whose laptop chargers are not working is to seek professional assistance. There can be several reasons why laptop chargers are not working. It can be a power cord issue, software malfunction, or declining battery health. After trying all the above tips, even if it works, it is advised to show your laptop & charger to a professional expert. If you are in Pune/PCMC, Macviewer can help you. Our engineers with 10+ years of experience are skilled in repairing laptop charger issues and other laptop repairing services.
Vilas May 18, 2022 Laptop, Laptop repair, Laptop tips & tricks